Is your pet worth $12 million? Leona Helmsley certainly thought so when she left her dog Trouble $12 million when she passed away. You may not have $12 million to leave to your pet, but you don't have to be an eccentric millionaire to want the best for your pets if you become ill, disabled or pass away. Since 62% of all U.S. households have at least one pet, pet estate planning is an issue that affects many Americans.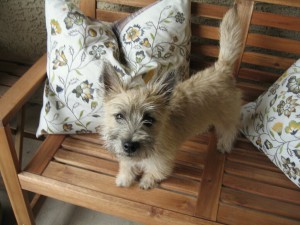 For many people, pets are members of the family. There's a good reason for this: pets enrich our lives. In addition to providing companionship, studies have shown that pet ownership provides numerous health benefits. People with hypertension who adopt a dog or cat have lower blood pressure readings in stressful situations than non-pet owners. The impact of stressful situations is lesser on those who own pets than those who do not. The companionship pets provide leads to greater psychological stability for pet owners, which may result in some measure of protection from heart disease. People who own pets actually make fewer doctor visits and have lower health care costs. And, pet companionship helps fight depression and loneliness.
 With all the benefits pet ownership provides, it's easy to see why pets become treasured members of the family. You love your pet and provide it with food and water, a home, and veterinary care. But what happens to your pet when you're gone? Who will take care of your pet? How will your pet's expenses be paid? How can you make sure that your pet is left in the best possible care? With a KEYTLaw Pet Trust, you can have peace of mind knowing that your furry and feathered family members are in good hands and well taken care of after you're gone.
What Happens to Pets When the Owner Becomes Disabled or Passes Away?
Since pets typically don't live as long as their human family members, you may have thought about or planned for your pet's passing. But what happens if YOU become sick or disabled or pass away first?
Unfortunately, failing to plan for your pet can have disastrous consequences. Most people don't want their healthy and happy pets killed when they become disabled or pass away, but this is often what happens. If someone doesn't make arrangements for their pet's care after they're gone, their pet could end up being surrendered to the local animal control facility and euthanized. Some shelters will euthanize an animal 72 hours after the animal arrives making potential adoptions impossible. Statistics show that over half of the animals surrendered to shelters are euthanized. Of all pets surrendered to shelters, 3% are surrendered because the owner is not able to care for the animal due to disability or because the owner has died. Nationwide, this means that nearly 300,000 dogs and 150,000 cats each year are surrendered to shelters because the pet's owner has died or become disabled. More than half of them will be euthanized.
Since pets are often overlooked in the confusion that follows an unexpected illness, accident or death, it is critical that you plan ahead for your pet's care. Sometimes pets are discovered days after a tragedy in an owner's home, forgotten and scared. Surely you don't want this to happen to your animal family members. In order for you to ensure that your pet will have the best possible care when you are no longer able to care for your pet, you should adopt both a short term and a long term plan for your pet's care.
Simple Steps To Protect Your Pets



The Humane Society of the United States recommends that you ensure your pet won't be forgotten and will be well cared for by taking these simple short term steps:
1. Find at least two trustworthy and responsible friends or family members who will agree to be emergency caregivers for your pet if something happens to you. Give them all the tools necessary to care for your pet: keys to your home, instructions on feeding and care, the name and number of your pet's veterinarian, and information about the permanent care arrangements you have made for your pet.
2. Alert neighbors, friends and family members that you have a pet and how many pets you have. You should give these people the names and numbers of your emergency caregivers so your caregivers can be alerted if you are not able to care for your pet.
3. Carry a wallet "Pet Alert Card" that identifies your pets, the names and phone numbers of your emergency pet caregivers and the name and number of your pet's veterinarian. A Pet Alert Card is included with every KEYTLaw Pet Trust.
4. Attach "in case of emergency" notices to your doors or windows that will alert firefighters and other emergency responders that you have pets. The notice should be removable so it can be kept current and list how what types of pets you have and how many.
5. Attach a note inside your home in a conspicuous spot (inside front or back doors or on your refrigerator) that lists emergency contact names and numbers.
Since your pets are dependent on you for life sustaining care like food and water, it is critical that they receive immediate attention. These short term and informal arrangements will go a long way to making sure your pets get the care they need.
Make A Trust For Your Pets
Although we treat them like family members, the law treats pets as property. As such, a person cannot leave money outright to a pet since property can't own other property. You can certainly leave money outright to a caregiver and request the caregiver take care of your pet, but since the money was left outright and not in a trust, there is no one responsible for making sure your pet actually receives the care you requested. In fact, there is nothing stopping the caregiver from taking the money and surrendering your pet to a shelter, having it euthanized, or just abandoning it on the street. In addition, the funds you left the caregiver for your pet's care can actually be taken by a creditor or former spouse in the event your caregiver gets sued or divorced.
The better solution is to create a pet trust to provide for your pet's care if you are no longer able to care for your pet yourself. Arizona and 42 other states and the District of Columbia have passed laws that allow people to leave money for their pet's care in trust. A pet trust is an agreement that sets out how a pet owner wants their pet to be cared for, who will be responsible for the pet's care, and how the pet's care will be paid for. These laws allow almost any third party designated by the trust to use trust funds to care for your pet.
Some states, including Arizona, limit the amount that can be left in the trust to the amount needed for the pet's care for the life of the pet. Any amount that exceeds the amount necessary for the pet's care will be distributed to your beneficiaries. This issue was highlighted when the "Queen of Mean" Leona Helmsley famously left $12 million to her dog, Trouble. A judge reduced that amount to $2 million and distributed the remaining funds to Helmsely's beneficiaries. Despite this, Trouble went on to live a long and happy life of luxury until his death in 2010.
The amount needed to care for your pet is determined by your pet's standard of living. Typical costs include food, treats, toys, pet sitting or day care, veterinary care (exams, vaccinations, medications, teeth cleaning and emergency care), grooming, boarding, insurance and travel expenses. Some pets will require additional specialized care. For example, horses require special shelter and room to exercise, and fish and reptiles require special tanks and enclosures. Be sure to plan for the needs of your particular pet. A good place to start is to look at the table below which shows some of the average annual costs for caring for cats and dogs.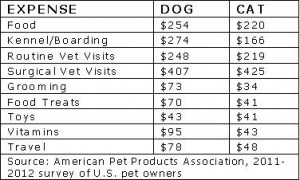 There are many benefits to creating a trust for your pet. A trust can provide for your pet immediately not only if you die, but if you become sick or disabled. Since assets left in trust avoid the probate process, funds are available much sooner for your pet's care. Otherwise, it could be a significant amount of time before your caregivers have access to any funds for your pet's care. A pet trust also allows you to specifically designate how you want your pet to be cared for and who should manage the funds set aside for your pet. A pet trust can even be structured to care for your pet during a lengthy illness or disability.
Before creating your pet trust, you should consider the following:
1. Who will be your pet's permanent caregiver? If you have multiple pets, should they all go to the same person, or should different pets go to different people? It's always best to keep pets with their pet friends, but sometimes that isn't possible. You should pick your pet's caregiver(s) wisely. Look at people you know and trust, who like pets and have successfully cared for pets themselves. Be sure to discuss your wishes for your pet's care with potential caregivers and make sure they are up to the task. Since caregivers will have total control over your pet's care, make sure you choose someone who will make decisions in the best interest of your pet. It is always a good idea to name alternative caregivers too in the event your first choice is unable to care for your pet.
2. Stay current with the caregivers you select and make sure to update your pet trust if one of your caregivers becomes unable or unwilling to care for your pet.
3. Who will be the trustee of your pet trust? The trustee is responsible for managing the funds in the pet trust and making distributions of those funds to the caregiver. The trustee is also responsible for making sure that the caregiver is properly caring for your pet using the trust assets.
4. Consider paying your pet's caregiver a monthly fee for caring for your pet. Also, you may want to consider letting the caregiver live in your home, rent free while he or she cares for your pet.
5. Do you want to award your pet's caregiver a bonus at the end of the pet's life as a thank you for caring for your pet?
6. If there are any funds remaining in the pet trust after the last pet dies, how do you want those funds distributed?
If you are unable to find a suitable long term caregiver for your pet, you can also consider naming a local charitable organization that will care for your pet upon your death in exchange for a contribution.  A listing of Arizona rescues and shelters can be found at:
http://www.animalshelter.org/shelters/Arizona.asp
Your pet has given you so much.  Give back to your pet and make sure they have the best possible care with a KEYTLaw Pet Trust.
Many pet owners are not aware of the potential issues that can arise when they are unable to care for their pets themselves. By discussing these issues with their estate planning attorneys, they can ensure their pets have the best possible care if they become ill, disabled or pass away.
A Pet Trust is critical to ensuring that your pets are well taken care of when you are no longer able to do so yourself.