Protecting Your Family Shouldn't Cost A Fortune!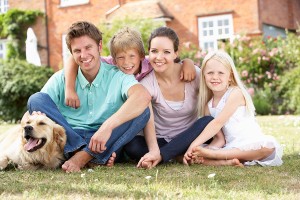 Let's face it: when the subject of estate planning comes up, many people tune out. They might think "I don't have a lot of money or an 'estate' so estate planning doesn't concern me". Or, they might think "everything I have I want to leave to my spouse and kids so why would I bother writing it all down".  Some people may know they need an estate plan, but just haven't gotten around to doing it yet. In addition, many people simply don't want to think about difficult issues like death or incapacity, let alone plan for them. If this is you, don't feel bad. You're in the same boat as more than half of America.  Unfortunately, the consequences of being in that boat aren't pretty. When someone fails to make an estate plan, their family WILL suffer the consequences. Let's look at some examples:
As you can see, estate planning isn't just about money.  And it's more than just "who gets your stuff". It's about family and taking care of your loved ones. No caring person wants to cause these kinds of problems for the people they love the most. Unfortunately, these are very real, common issues that arise when someone doesn't have an estate plan.
Many people know they need an estate plan but just haven't done it yet. Procrastination is probably the single biggest reason many people don't have an estate plan. Some people might think "I'm healthy and not going to die for a long time. I'll worry about estate planning later." While this may work for some people, it's a gamble with your family's emotional and financial well being at stake. Incapacity and death don't wait for people to get all their ducks in a row. If someone keeps putting off making an estate plan and something happens, their loved ones will suffer the emotional and financial consequences of their procrastination.
Contents of Our Estate Plan with a Revocable Living Trust



For a detailed explain of what is contained in our three estate plan bundles go to "Arizona Estate Plan Contents."  
Our Estate Plan
$3,497 for a single person and $4,497 for a couple.  If you bought our Gold LLC within four months of the date you pay for your estate plan you get a $1,000 discount.  This plan includes a revocable living trust that provides that the assets in your trust pass automatically on your death (or on the death of both spouses if you are married) to an irrevocable beneficiary controlled asset protected trust created for each of your heirs and their descendants.  Your heirs inherited assets in their trusts will be protected for life from their creditors, ex-spouses and bankruptcy courts.  Each heir's trust is also a "dynasty trust" that creates a trust for your heirs children on the heir's death. See "A Smart Option for Transferring Wealth Through Generations: The Dynasty Trust."
To purchase our estate plan: